Featured News
Elevance Health Foundation Expands Food as Medicine Programs Through New Grants
The Foundation has awarded an additional $4.2 million, bringing award total to more than $27 million to support organizations delivering solution to improve food insecurity.
Elevance Health Foundation, the philanthropic arm of Elevance Health, today announces the expansion of its food as medicine grants through an additional $4.2 million in awards. Each grant will go toward organizations that are helping individuals and families reach optimal health through good nutrition, focusing on improving clinical outcomes for food insecure individuals with chronic conditions and/or creating more access to nutritious foods for food-insecure populations. This third phase of food as medicine grants is part of the $30 million the Foundation plans to invest through next year to make significant progress in encouraging food as medicine. This round of grants brings the total awarded thus far to more than $27 million.
Those who experience food insecurity are more likely to experience chronic diseases—such as diabetes and high blood pressure—and children often experience delayed development. Research also shows that undernourished school-aged children often experience behavioral conditions. Sadly, this burden is not distributed equally, as it is disproportionately high among racial and ethnic minority groups.
"We believe that food is medicine, and when we fuel our bodies with nutritious foods, we can prevent diet-sensitive chronic diseases. However, food insecurity continues to be one of the most critical unmet needs in the U.S.," said Shantanu Agrawal, M.D., Chief Health Officer at Elevance Health.
"Through the work of the Elevance Health Foundation, we are making access to high-quality food a priority and creating more access to nutritious food for food-insecure populations across the country. Currently, six of our Foundation-funded programs that focus on food distribution and long-term solutions have reached more than 270,000 individuals and have provided more than 306,000 meals."
The newest phase of food as medicine grantees joins 19 previously awarded organizations. To date, the first and second phase of grant programs have reached more than 528,000 individuals and are beginning to report early outcomes. For example, of the 12 current grant programs that have collectively reported more than 700 individuals flagging one or more chronic conditions, 64% have reported improved health outcomes (e.g., blood sugar, blood pressure, cholesterol, etc.).
"Since the start of our program, participants are self-reporting positive gains against indicators of nutrition risk, including food insecurity, access to a variety of nutritious foods, weight and eating alone," said Kristen LaEace, CEO of Indiana Association of Area Agencies on Aging (IAAAA), an organization the Foundation awarded funding to last year. "As we enter the next year of our grant, we anticipate seeing continued improvements around social isolation and physical activity, as our program is driving stronger engagement with the AAA's congregate meal sites and the evidence-based healthy aging supports they offer."
The following organizations will receive more than $4.2 million with a goal of reaching more than six million Americans:
Second Phase Grants: Food as Medicine
Academy of Medical and Public Health Services
Augusta Locally Grown
Children's Hospital of Orange County (CHOC) Foundation
Children's Medical Center of Akron
Columbus Neighborhood Health Center
Diabetes Association of Atlanta
The Food Pantries For the Capital District
Fund for the City of New York
Greater Richmond Fit4Kids
The Health Initiative
Housing Works Inc.
Los Angeles Regional Food Bank
National WIC Association
Poverello Center
Salt and Light Works
Second Harvest Foodbank of Southern Wisconsin
TENT Ministries
Virginia Primary Care Association
Elevance Health Foundation Commits $22.8 Million to Food as Medicine Grants
With the goal of helping individuals achieve optimal health through good nutrition, these grants will support programs that treat food as medicine.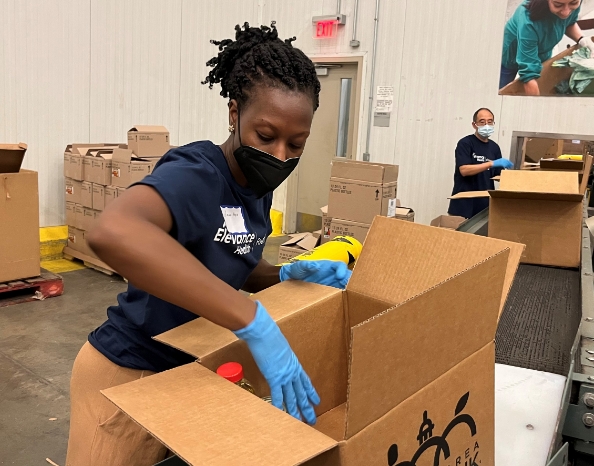 The Foundation is awarding grants to programs that focus on one or more of the following goals: preventing or managing chronic conditions through food interventions, improving access to and distributing food while providing long-term solutions for food insecurity, and providing nutrition and health education. These grants are part of up to $30 million that the foundation plans to invest over the next three years to encourage the use of food as medicine.
"Having consistent access to nutritious food is an essential part of maintaining one's health and improving overall outcomes. Between continued economic fallout from the pandemic, record-high food prices, and more, access to healthy and nutritious food is getting harder for Americans," said Shantanu Agrawal, M.D., chief health officer of Elevance Health. "We know that hunger, health, and well-being are all deeply connected. That's why the Elevance Health Foundation is focusing on programs that help prevent the onset of diet-related health conditions and demonstrate improved health outcomes. Our partners are committed to health equity and whole health and have a deep understanding of the health-related needs of the populations they serve."
The Foundation will award more than $14 million to the Feeding America network, the largest hunger-relief organization in the United States, to expand its current partnership, known as the Food as Medicine program, and help fund up to 30 member food banks that are working with healthcare partners.
In addition to Feeding America, 19 other organizations will receive a total of more than $8.7 million over the next three years for their food as medicine initiatives:
Food as Medicine Grantees
Centers of Wellness for Urban Woman, Inc.
Charitable Pharmacy of Central Ohio
Children's Hunger Alliance
CORE Community Organized Relief Effort
Diabetes Association of Atlanta, Inc.
Feeding America
Fit4Kids
Food & Friends, Inc.
ForKids, Inc.
Fresno Metropolitan Ministry
HealthLinc, Inc.
IAAAA Education Institute, Inc.
Meals on Wheels West
Midwest Food Bank NFP
Project Open Hand
Promoting Local Agricultural and Cultural Experiences, Inc.
Thai Community Development Center
Union Hospital, Inc.
Union Station Homeless Services
Virginia Foundation for Community College Education